....20 blessed years with honesty and trust
By Imrana Abdullahi
The Governor of Zamfara State, Dr. Dauda Lawal Dare expressed his joy and happiness at the way Judge Bello Muhammad Shinkafi has completed 20 years of justice and justice in Zamfara State.
Alhaji Ahmad Garba Yandi, the representative of Zamfara State Governor, Dr. Dauda Lawal Dare, at the big meeting organized in Gusau town to celebrate the 20th anniversary, said the Governor is happy and excited about this event to celebrate the 20th anniversary of the state government and  His family is all happy and happy with this servant of God.
The Judge of the High Court of Zamfara State, Judge Bello Muhammad Shinkafi, has expressed his full satisfaction with the blessing of Allah to make him a Judge, just as his Grandfather and Father both served as Judges.
"I come from the family of judges because my grandfather and father were all judges, so today I became a judge and my dream has come true. If today I turn to God and my dream is fulfilled".
Judge Bello Muhammad Shinkafi,said this when he was delivering a speech of thanks at the big meeting organized to celebrate his 20th anniversary as a Judge, his family, friends and friends who worked with them attended the town of Gusa is the headquarters of Zamfara State in the northern part of the federal state of Nigeria.
"My true intention is to become a Judge and Alhamdulillah God has fulfilled my need, even today God has taken my life to fulfill my need".
"Alhamdulillah, Alhamdulillah, everyone who comes to see the kind of people who have gathered here is thankful to God Almighty only because the important people who have gathered here is really something to thank God for, I thank everyone who came here  Thank you very much."
In his speech, the Judge of Zamfara State, Judges that is the Grand Khadi of Zamfara state Judge Dahiru Muhammad, said that he is our judge, he is our man, we have worked with him for a long time, we have worked under him since he was chief registrar (C R) and we were junior judges since then he respected us.  Dear God, we are very grateful.
"So I assure the public that he is a good man who loves the people and is honest. May God bless him with good health and make us all safe with him.
In his speech, Khadi Kabir Hafiz Gusau said that he did indeed, we congratulate Judge Bello Muhammad, because he has a good history in the judiciary,because he can judge without bribery and the other things is what we required for Judges.
"We ask God to protect him more and guide him and all of us and give us the wealth to finish the work with health and all the blessings that he is looking for in the work of God. May God bless him with them.  protect him, may God protect us all for the blessings of the Qur'an.
The former permanent Secretary of the Ministry of Agriculture in Zamfara State, Alhaji Altine, who gave a brief biography of their lives when they were school students.
"He is an expert in mathematics and English because he is a very intelligent person who wins all the subjects that are taught to us as students."
Even at that time we as students were receiving the gift of a gifted student at Usman Dan Fodio School Sakkoto.
"I know he read 1200 Nobel books in order to improve his English and increase his intelligence capacity".
He said Justice Bello Muhammed is a person who if he makes a promise, he will always try to fulfill the promise and he is a person who loves friendship with everyone.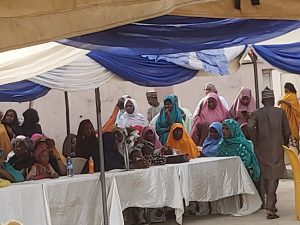 The meeting was attended by men and women in and outside Zamafara State to congratulate Justice Bello Muhammad on his 20th birthday.