By; Imrana Abdullahi
The National Teachers' Institute (NTI) Kaduna and UNESCO will collaborate to organize a capacity building workshop for 250 teachers from five States of the Federation.
This collaboration was disclosed by the Director and Chief Executive of NTI, Prof. Musa Garba Maitafsir during the 42nd Session of UNESCO General Conference that held in Paris, France between November 7 and 11,2023.
A statement issued by Dr  Armiya'u Yabo, Special Assistant to Prof. Musa Garba Maitafsir said the Director joined the Minister of Education, Prof.Tahir Mamman, accompanied by him and other Nigerian officials.
The statement added, "Consequently, Prof. Maitafsir secured a collaboration with UNESCO to organize capacity building workshop for 250 teachers.
"They are 50 teachers for each of the five states of Cross- River, Imo, Kaduna, Lagos and Taraba, on Family Life and HIV Education ( FLHE).
"This is to strengthen capacity of in-service teachers, FLHE desk officers to deliver Family Life and HIV nfermce Education that responds to specific needs of adolescent and young people..
"This is including those living with disabilities and those in humanitarian settings, which will commence by the end of November or early December this year."
Dr Yabo recalled in the statement  that the Institute has a long history of series of collaboration with UNESCO in the area of advancing teacher training and distance education in Nigeria.
Accordingly, the duo of NTI and UNESCO had trained thousands of teachers on the use of Mobile Technology in teaching and learning through a programme called " Mobile Learning Programme.
"Concurrently, the administration has reiterated its  commitment to continue partnering with international development partners in the training of Nigerian teachers and ultimate transformation of NTI as an international distance education Institute," the statement averred.
Prof. Maitafsir was in Paris based on invitation through a letter of correspondence, dated September 15,  addressed to him and signed by the Secretary -General of the Nigerian National Commission for UNESCO.
" NTI being one of the focal agencies in the UNESCO field of competence in Nigeria and expert in education commission," the letter reads.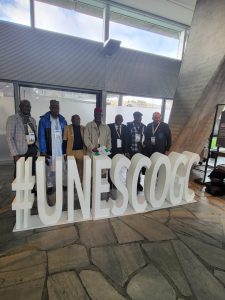 Having put this into consideration and prioritised the needs of NTI, the Director and Chief Executive, who traveled to Paris alongside Dr. Armiya'u Malami Yabo,  ensured that the Institute's needs in the focus area were clearly defined and reflected during the conference.
Prof. Maitafsir also pressed to obtain the benefits in terms of attracting UNESCO project to the Institute and Nigerian teachers in general.